24-7 Live Chat Support
for your Website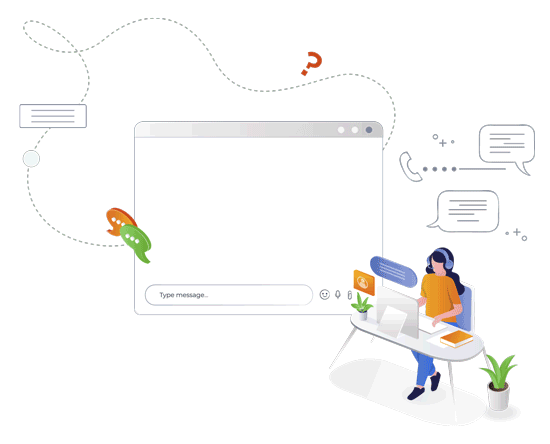 Our 24-7 Live chat support for your website features include

Our 24/7 real Live chat customer support coverage with transcripts. No Bots

Increase revenue, customer satisfaction and loyalty with our live chat support system

Our live chat support system will redirect your clients to the right webpage

Auto translate to 34 different languages – the complete live chat solution

We answer each question as you would

Real time analytics. Transcripts, Location, Pages, and Timing

Simultaneous conversations with our trained live chat agents

Average wait time 18 seconds or less

No additional software programming or costs.

We capture the email to build your contact list for follow up

Details of our live chat support system features
Our 24/7 Live chat customer support coverage with real time transcripts
Our 24/7 coverage offers Live Chat with your customer anytime. Solve customers' problems on the spot. First, we will monitor and answer the most basic questions, plus provide you with a copy of the entire conversation. After that, we email you reports on their location, their email, and their phone number. (if captured.) Most Importantly, every Chat request is answered by a live chat agent. No Robots or automated incorrect answers.
Increase revenue, customer satisfaction and loyalty with our live chat support system
$987 million in revenue by Live Chat by 2023.
People who use a  live chat service spend on average 60% more.
It is more preferred by consumers than any other form of communication<
The live chat support system carries 2X more customer satisfaction score than any other medium
Simultaneous conversations with our trained live chat agents
Each live chat agent operator is trained to handle up to 4 conversations at a time without the loss of quality. In other words, this limits the need for additional costs on your peak times when there may be an increased number of chat requests.
We answer each question as you would on average of 18 seconds
The average wait time for a live chat agent is 18 seconds. Compared to a phone call with the average hold time of 2 minutes and 40 seconds. This means more conversions, and happier customers. Therefore, Live chat systems have proven to be the preferred mode of communication for your clients.
We answer each question as you would
You provide us with the answers to the most common questions, we copy and paste exactly as you would answer the question. After that, we save every answer you provide us and add to our list every time you provide us with additional answers. If we do not know the answer, we capture their email and then email the request to you to answer at your convenience.
Real time analytics. Including Transcripts, Location, Pages, and Timing
At the end of the conversation, we email you a report. Most importantly, this report includes:
Their IP location,
An entire chat transcript
The pages they visited and how long on each page.
Our live chat support system will redirect your clients to the right webpage
No matter the checkout process, or the efficiency or a blog or a website menu, some customers do get confused. Our live chat support system can redirect the client to each step of the buying or searching process. No need to try to coach them to locate a button. We can redirect them as needed,
Auto translate to 34 different languages - the complete live chat solution
Our live chat monitors the language of the Client's IP and then translates the answers to the client in their language. In addition, the client can also choose the preference language.
We capture the email to build your contact list for follow up
You can choose to only answer live chat questions before the live chat starts or we can make an attempt to gather their email when they ask a question they need an answer for. After that, every email captured is then provided to you to add to your client and follow up list. To send out email or follow up responses to build your newsletters
Overflow email follow up
For the rare occasions that there are more than 4 simultaneous chats, we will email a response to the question they asked. therefore, If there is a continuous volume greater than 4 at a time, then we can offer additional live chat agents to manage the increased volume. In conclusion, our goal is to offer only the best live chat solution.
No additional software programming or costs
We do all the work to add the plugin to your website. In addition, be operational in minutes after you provide us a list of general questions we can answer. First use our easy to fill out form.  Secondly, we will install it and start as quickly as time allows. (Generally within 1 business day)